You Can't go Wrong with a Travertine Stone Pool Deck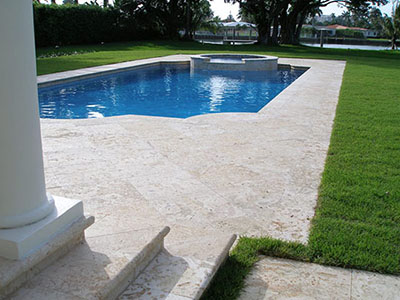 There are many advantages in having a swimming pool in your own backyard. It's where you can enjoy swimming alone or with your family in private and it's also a fabulous place to entertain your guests.
However, depending on what your pool deck is constructed from, it can be potentially dangerous and you should do something about it before an accident happens.
If you're looking for a safe pool deck that is durable enough to last many years, then a travertine pool deck is what you need. Travertine is more durable and slip resistant than concrete, and also has a luxurious look that can increase the value of your property.
The 3 Things You Should Know About Travertine Stone…
A travertine pool deck is a very safe choice since it is naturally slip-resistant. Travertine is a porous stone that significantly reduces the risk of slipping. Compared to concrete, it is virtually slip-proof when it is wet. When it comes to pool decks, we believe safety should come first before anything else. Installing a slip proof travertine pool deck is an ideal choice to give you peace of mind and provide safety for your family and guests.

A travertine pool deck deflects the heat from the sun. Unlike concrete which can be very hot when it's exposed to the sun for a long time, a travertine swimming pool deck absorbs the cool of the ground below and also reflects the heat of the sun rays. This allows the temperature of your travertine pool deck to remain cool, allowing people to walk barefoot around the pool.

The colors of a travertine swimming pool deck hardly dissipate. A travertine pool deck is very resilient to the withering effects of the hot and humid South Florida climate. You should also know that travertine pavers are far more durable than  concrete and that travertine stones have been exposed to years of intense heat and pressure before they are harvested.
If you're looking for the best quality and most luxurious travertine pool deck installation, call us for a free consultation. We can offer you a wide range of options including intricate patterns and stunning color choices that are sure to beautify your backyard pool deck while ensuring a safe surface for you to walk on.
We are a fully insured and licensed contractor that strictly adheres to your specifications and works within your budget to help you achieve your dream of owning a beautiful and elegant pool deck, satisfaction guaranteed.
Have Questions?
If you have any questions or need more information about a Travertine Stone Pool Deck or any other outdoor deck for your home or property, call us today at (954) 636-2255 or book an appointment for a Free Consultation.
Elite Construction and Maintenance Group, LLC.
Serving Broward County, Miami-Dade County and the Upper Florida Keys
Phone: (954) 636-2255 • Fax: (954) 636-2259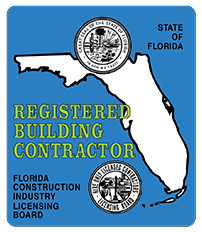 "We Strive to Provide You With Peace of Mind in Every Project We Do."