Chain Link Fencing – One of The Best Options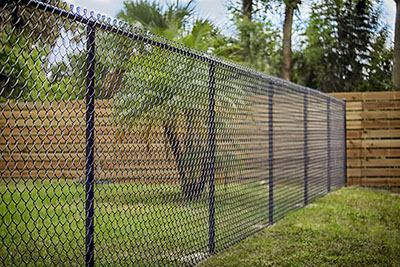 Chain link fences offer you a practical way to protect your home or commercial establishment.
A chain link fence is one of the best fencing options for many home and business owners because of its affordability and its durability. Chain link fences are so durable that they last for decades even in the harsh environment of South Florida.
These fences require very little maintenance and are suitable for keeping your children or pets in your yard and keeping trespassers out. It is one of the most practical forms of security for property owners. Unlike vinyl and wood fences, one huge benefit of a chain link fence and aluminum fencing is that you can see through the fence, stripping potential intruders of invisibility.
Chain link fencing is one of the strongest fencing materials that we offer and because of its affordability and toughness, it is one of the most popular forms of fencing in the entire country. Its material is made from galvanized steel wire which is intertwined to create a set of interlinked diamond shapes. The fence is linked onto steel posts and tightly secured to the ground with concrete.
Chain link fencing is perfect for:
Commercial Buildings

Residential properties and Housing Complexes

Industrial Facilities

Baseball fields

Schoolyards

Swimming pools

Dog kennels

Sporting Establishments

Parking Lots
Elite Construction & Maintenance Group installs standard galvanized chain link fences in various sizes and color coatings. We have a wide range of fencing solutions for any and all applications. Set up by our professional and highly experienced team of installers, we can custom build a chain link fence based on your specific requirements and are committed to giving you the best, strongest and most affordable chain link fence for your home or business.
Once you have decided that a chain link fence is the right fence for you and want to have one installed, we will come out to discuss various options with you and give you a free estimate of what it will cost. In order to determine how much chain link fencing you will need for your property, we will need to measure the linear footage of the area you'll want to be enclosed.
Your fence will be installed by our team of skilled and experienced fence builders and is 100% satisfaction guaranteed. We promise we will assist you throughout the entire process and you will get a quality fence that you will be happy with and suits all of your needs.
Have Questions?
If you have any questions or need more information about chain link fencing for your home, business or industrial property, call us today at (954) 636-2255 or book an appointment for a Free Consultation.