How to Choose the Right Contractor
The 3 Most Important Things You Need to Know…
1. The contractor has to have the proper licenses.

Make sure the contractor has a valid state and/or county contractor's license. When you hire a licensed contractor, you can avoid the following problems:
You'll have no one to turn to if the work is unsafe, shoddy or fails to meet code
If a worker gets injured on your property, you'll be liable for their injury
You'll be fined for hiring an unlicensed contractor.
2. Your contractor should be the one to obtain a permit.
You may bear responsibility for a worker's injury or accident if you get an Owner Permit yourself. When hiring a contractor, be sure that they're insured and properly licensed. Under an Owner permit, you can't hire anyone who isn't licensed to do work.
Requirements for a permit may depend on where you are located. If you're situated within a municipality or township, you may need to obtain a local permit. Based on the size of the project, and scope of your work, you may be issued permits within a couple days or it could take weeks.
3. Does your contractor have proof of insurance?
It's important that your contractor is properly insured, and you should to ask him for proof of insurance. Before beginning work or signing a contract, demand your contractor shows you his Certificate of Insurance. If they don't want to provide you with an up-to-date copy of their insurance, then you should cut ties with them and look for a contractor who is properly insured.
Workers Compensation Insurance (WCI)
By law, WCI is required for all contractors except for the following: "Entitled for an exemption only are LLC (limited liabilities company) members or corporate officers working in construction business." If your contractor tells you he is exempt, ask him to furnish you a copy of their Exemption Certificate from Workers' Compensation Law in Florida. WCI should be provided to workers on a job site even if they're under a contractor who's exempted from it.
General Liability Insurance
It's prudent for a homeowner to know that the contractor he hires will have General Liability Insurance as well. This will protect the homeowner from any liability in case the contractor injures someone other than their employee or does damage to the neighbor's or homeowner's property. All contractors in Florida should also carry General Liability Insurance.
Have Questions?
If you have any questions or need more information about hiring the right contractor for your home, business or industrial property, call us today at (954) 636-2255 or book an appointment for a Free Consultation.
Elite Construction and Maintenance Group, LLC.
Serving Broward County, Miami-Dade County and the Upper Florida Keys
Phone: (954) 636-2255 • Fax: (954) 636-2259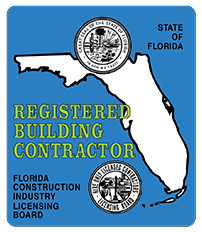 "We Strive to Provide You With Peace of Mind in Every Project We Do."