A Boat Lift Will Prevent the Deterioration, Aging and Exposure Caused by Salt Water and Other Elements.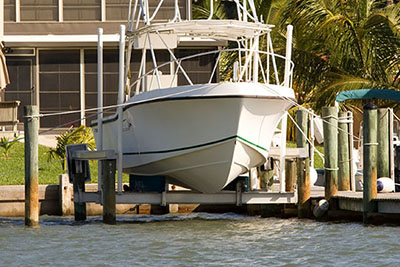 If you're a boat owner, whether your boat is large or a small, having a boat lift will definitely provide you with the benefit of convenience and protection.
For boat owners who live along a waterway it is essential to have a boat lift because without it your boat will be exposed to the wear and tear, deterioration, aging and exposure caused by salt water and other elements.
If you've already considered purchasing a boat lift of your own, here are the things to be aware of when selecting one.
Things to Take into Account When Buying a Boat Lift:
Waterway Area
When choosing a boat lift one thing to consider is assessing the access area to the waterway. Is your passage to the waterway constrained in some way? For example, if the area has no sea wall or electricity and is in a remote area, or if the waterway is too narrow for pilings, the wisest option is to choose a solar powered, hydraulic Tornado Boat Lift. Assessing the waterway area will allow boat owners to determine the kind of boat lift that's best for their situation.
Boat Lift Type
When you're in the market for a boat lift, you'll need to think about the style of boat lift that best suits your needs. You may want a boat lift equipped with walk around planks to easily clean the outside and underside of your boat, an awning covering to provide shade and protection from the rain, or a deck style lift for added space and convenience.
Boat lift styles such as elevator lifts, davit lifts, 4 post lifts, deck lifts or floating dock lifts, along with combining boat lift accessories, will give boat owners the opportunity to customize their boat lift area to satisfy their specific needs and desires. This may be as simple as a jet ski lift on a small dock with a swivel design or as intricate as a covered boat lift area ornamented with lavish amenities.
Whether for practical purposes or not, you can customize any marine construction boat lift and the areas around them based on your needs and wants.
The Weight and Size of the Boat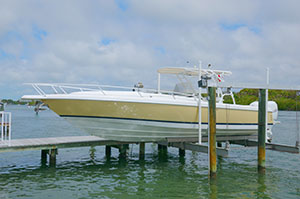 Last but definitely not least, you will need a boat lift that can handle the size and weight of your boat.  We can install boat lifts of any size including lifts that are suited for very large, heavy boats. For larger boats there are less options to choose from though due to the amount of weight exerted by the vessel. It's not a good idea to try to lift a large vessel with a boat lift mounted to a dock or sea wall. The best choice for larger boats would be a boat lift mounted on dock pilings; either a 4-post or 8-post boat lift equipped with a motor mounted on each of the four corners.
If your boat weighs less than 20,000 lbs. in dry weight, you typically have a much wider range of options to choose from including:
Dock lifts

Elevator boat lifts

Floating dock lifts

4-post boat lifts

PWC boat lifts

Single track boat lifts

Tornado boat lifts
When determining the weight of your boat, you must remember to calculate the extra weight added from things such as T-tops and towers, onboard equipment, tanks filled with fuel or fresh water tanks, crew that might be onboard while the boat is on the lift, and any other added weight on the boat.
Even after taking all of these factors into consideration, it is still a wise decision to select a boat lift with a higher weight capacity rating to make sure there's a buffer. Including a weight buffer when buying a boat lift is important so that the boat lift motors and components are not pushed to their limits, causing failure and then requiring dock repair. When unburdened with too much weight, boat lifts will last longer and be safer to operate.
If you are undecided and want to find the best boat lift for your needs, call us for a free consultation and our experienced team will come out to your property and discuss with you the best options suited for your application.
Have Questions?
If you have any questions or need more information about installing a quality lift for your boat, call us today at (954) 636-2255 or book an appointment for a Free Consultation.
Elite Construction and Maintenance Group, LLC.
Serving Broward County, Miami-Dade County and the Upper Florida Keys
Phone: (954) 636-2255 • Fax: (954) 636-2259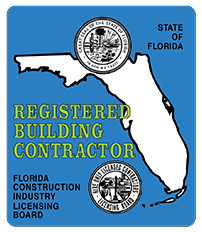 "We Strive to Provide You With Peace of Mind in Every Project We Do."